Best smart thermostats 2022: Reviews and buying advice
Installing a smart thermostat–or upgrading the one you already have–will have an outsize impact not only how comfortable you are in your home, but also on your household budget. Heating and cooling your home accounts for nearly half of the average home's utility bills, according to the U.S. Department of Energy.
A programmable thermostat can help reduce those costs by turning your HVAC system on when you anticipate being home, and off when you don't think you'll need indoor climate control. A smart thermostat goes far beyond relying on a simple schedule. It will enable you to create more sophisticated schedules for every day of the week, and give you complete control over your HVAC system, even when you're away from home. We continually test and evaluate smart thermostats and can help you find the right one for your home.
Updated June 24, 2022 to add a FAQ (frequently asked questions) section.
Best smart thermostat for every budget and HVAC system type
Ecobee Smart Thermostat Premium — Best smart thermostat overall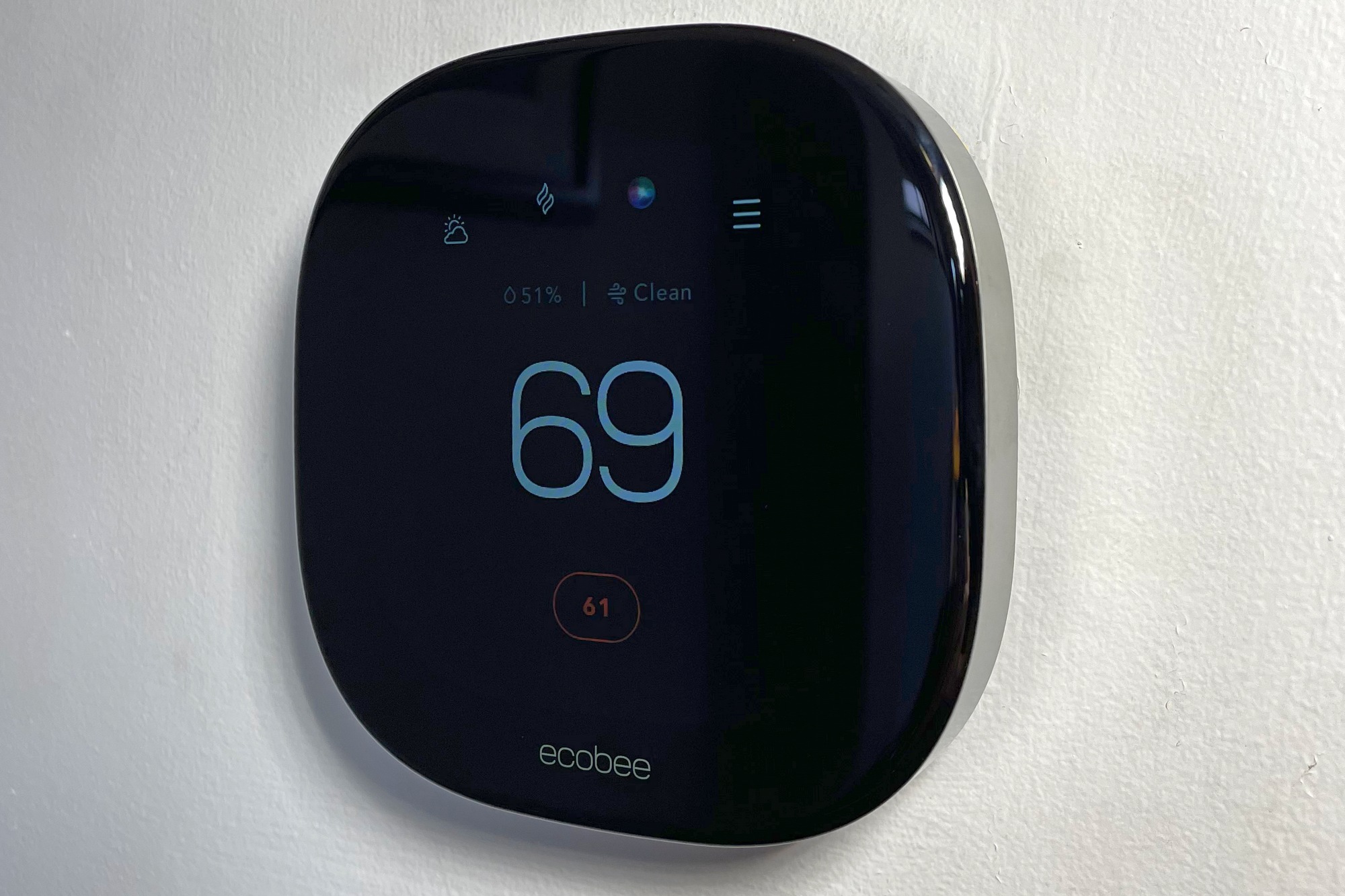 Pros
Beautiful industrial design
Broad compatibility with other smart home ecosystems
Outstanding user interface, both in the excellent app and on the device itself
Radar-based motion detection, plus support for remote temperature/motion sensors
Supremely easy to install and configure
Cons
Siri support requires the presence of an Apple HomePod or HomePod mini
Air quality sensor won't trigger your HVAC system's fan to circulate air
Pricey
Nest usually gets all the attention—and the company deserves credit for shaking up a once sleepy market—but Ecobee's latest smart thermostat is the best you can buy today. The Ecobee Smart Thermostat Premium is beyond best in class, it's everything a modern smart home device should be: Spectacularly useful on its own, and capable of working with every other important smart home platform on the market today. We are curious why Ecobee included an air quality sensor, but didn't enable it to cycle your HVAC system's ventilation fan to turn on, and it's annoying that you must also have an Apple HomePod or HomePod mini in order to use it as a Siri smart speaker (Alexa is your other choice), but that's about the only fault we can find with it.
Read our full
Ecobee Smart Thermostat Premium review
Nest Learning Thermostat (3rd generation) — Best smart thermostat overall, runner-up
Pros
The best algorithms on the market
Excellent interface and easy set-up
Top-notch industrial design
Cons
Overly reliant on its built-in motion sensor (or your buying other Nest products)
Nest doesn't like geofencing, so it thinks you shouldn't either
Incompatible with Apple's HomeKit ecosystem
The Nest is still the best for users who don't want to think about their thermostat, but don't count Nest out of the thermostat game. The Google division has worked harder than anyone to build out a comprehensive smart home ecosystem with its own products—the Nest Cam security camera series and the Nest Protect smoke and carbon-monoxide detectors. The recent addition of the Nest Temperature Sensor makes this device even smarter.
Read our full
Nest Learning Thermostat (3rd generation) review
Amazon Smart Thermostat — Best budget-priced smart thermostat
Pros
Automatically learns your heating and cooling needs
Can be controlled with Alexa voice commands
Broadly compatible with 24V HVAC systems
Cons
Not compatible with Google Assistant
Not compatible with Apple HomeKit
Power adapter kit costs extra if your HVAC system doesn't have a C-wire
Amazon wins this category with the least expensive, most sophisticated smart thermostat in its price range, and that goes double for households that revolve around  Amazon's Alexa, since it's not compatible with Google Assistant or Apple HomeKit. But it does support a broad array of HVAC systems and it will learn your comings and goings over time to save energy by not heating and cooling an empty home. 
Read our full
Amazon Smart Thermostat review
Nest Thermostat — Best budget-priced smart thermostat, runner-up
Pros
Attractive industrial design, available in four colors
Very easy to install, program, and use
Monitors your HVAC system for potential problems
Energy Star certified
Cons
No support for remote room sensors
Not suited to more complex HVAC systems
Backplate for covering holes from previous installations is a $15 option
It's hard to beat the Nest team when it comes to attractive industrial design, and the Nest Thermostat is an elegant device if you don't need to support more sophisticated HVAC systems or you don't care that it doesn't support remote sensors that can eliminate hot and cold spots in your home. 
Read our full
Nest Thermostat review
Mysa Smart Thermostat — Best smart thermostat for high-voltage heaters
Pros
Wi-Fi adapter is built in, no additional-cost bridge required
Compatible with Amazon Alexa, Google Assistant, and Apple HomeKit
Easy-to-use mobile app
Stylish industrial design
Cons
Minimalist design limits the amount of information the device itself can display
Not compatible with Samsung SmartThings (compatibility was added after our review)
Wiring can seem confusing compared to the thermostat you're replacing
These types of thermostats are designed for baseboard, radiant, fan-forced convector, and similar types of heaters, as opposed to the more common central HVAC systems. As such, there are far fewer choices in this category. So far, the Mysa Smart Thermostat is our top pick, due to its elegant industrial design and its broad support for other smart home devices, including Amazon Alexa, Google Assistant, and Apple HomeKit.
Read our full
Mysa Smart Thermostat review
Sensibo Air — Best controller for a stand-alone air conditioner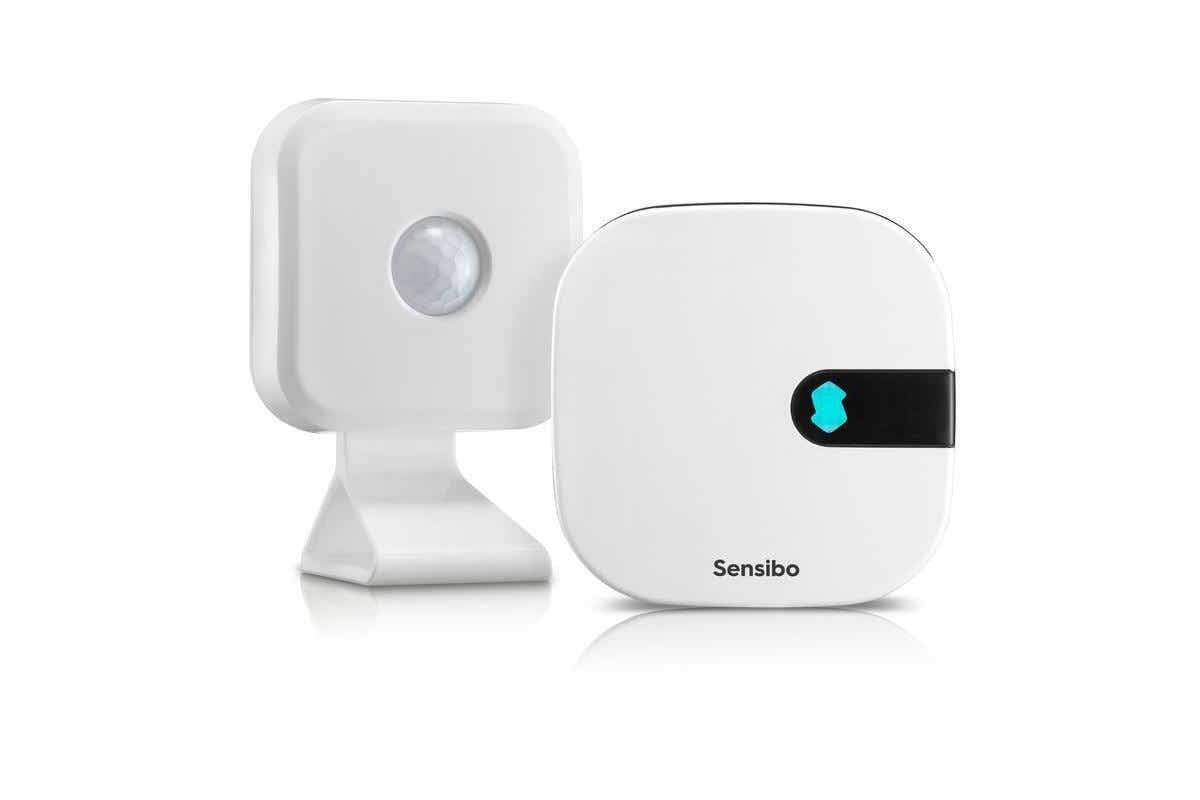 Pros
Secondary sensor that monitors motion as well as temperature and humidity
Lots of air-conditioner control options
Compatible with many brands of stand-alone air conditioners
Cons
It will take a lot of energy savings to recoup the price
Single-band (2.4GHz) Wi-Fi adapter
No onboard controls or UI on the main unit
If you don't have a central HVAC system, or if your supplement one with one or more stand-alone air conditioners, the Sensibo Air will make those units smarter and more efficient. It's expensive, but very much worth the cash.
Read our full
Sensibo Air review
Cielo Breez Plus — Best controller for a stand-alone air conditioner, runner-up
Pros
Incredibly easy to set up and use
Tracks humidity as well as temperature
Broad compatibility with various models of air conditioners
Cons
Fragile build quality
Unattractive industrial design
Scheduling section of display is difficult to read
While this isn't the most attractive air-conditioner controller we've seen, it is the most versatile and the easiest to set up and use. It's also compatible with more air conditioner models than its competitors.
Read our full
Cielo Breez Plus review
Frequently asked questions about smart thermostats
Are smart thermostats hard to install?
A thermostat shouldn't be difficult to install, even if you're only moderately handy. The manufacturer should provide comprehensive, yet easy-to-understand instructions with plenty of photographs or illustrations to guide you through the process. The thermostat itself should be clearly indicate which wires go where, and most companies provide labels that you can attach to the wires coming out of the wall as you disconnect and remove your old model. The wires themselves should be color coded, but a good practice is to photograph your old thermostat for reference before you take it down.
Do I need a C wire to use a smart thermostat?
Smart thermostats typically require more electrical power than a set of batteries can provide. Fortunately, they don't require so much power than they need to be plugged into the wall. They rely instead on low-voltage power provided by your HVAC system. Many smart thermostats require the presence of a dedicated C (common) wire for this purpose, while others can siphon electricity from another source, typically the R (power) wire. But the latter practice is known to cause problems with some HVAC systems, including permanent damage.
If you pull out your existing thermostat to install a smart model and find no C wire connected to it, look inside the wall to see if there's one that hasn't been connected. If there's no C wire, our advice is to have one installed. Some smart thermostats–including our top pick, the Ecobee Premium, come with power adapter kits that can be installed if you don't have a C wire and don't want to pay to have one installed.
Do smart thermostats support multi-zone HVAC systems?
The short answer is typically yes, because you'll install a smart thermostat in each of your existing zones. Here's a longer explanation if you're not sure what a multi-zone HVAC system is. If you have a larger home, your HVAC contractor might have installed a zoned system that lets you set a temperature target for different rooms–or different levels–instead of heating or cooling your entire home to a single target temperature. In this case, you'll have multiple thermostats–one for each zone–that connect to a central control panel. The control panel opens or closes the dampers in each zone as needed to bring that zone to your preferred temperature. You'll program the entire system using a single app.
Do smart thermostats support multi-stage HVAC systems?
Better HVAC systems offer multi-stage heating and cooling, meaning they can operate in steps, versus simply switching between on and off states. A two-stage system, for example, might have a "low" setting and a "high" setting, while a three-stage system might have "low," "medium," and "high." When the ambient temperature is already close to your desired temperature, the system doesn't need to ramp up to its full power to reach your target temperature. Conversely, when the ambient temperature is far from your desired temperature, the system can kick on at full tilt and then switch to a lower-power mode as it approaches the target. As a result, multi-stage HVAC systems are more efficient than single-state. Virtually all modern smart thermostats support both single- and multi-stage HVAC systems.
Do smart thermostats work with heat pumps?
All of the smart thermostats we've reviewed–apart from the ones designed work with portland and window air conditioners–are compatible with heat pumps. Not sure what a heat pump is? It's an appliance that redistributes warm and cold air. In heat mode, it draws warmth from the air outside your home and releases it inside (a ground-source heat pump absorbs heat from the ground). This is a greener method of heating in that it doesn't consume fossil fuels, such as natural gas. In cooling mode, a heat pump absorbs warm air inside your home and releases it outside. These appliances work best in milder climates that don't experience freezing temperatures, although they can be combined with a conventional furnace for heating when outdoor temperatures get very low.
Do smart thermostats work with portable and window air conditioners?
Most smart thermostats are designed to work with central air conditioners, but there is a class of device that can control portable air conditioners (the type with casters that vent out a window) and window air conditioners (the type that sit on your window sill). These types of thermostats typically depend on the air conditioner in question have a remote control, as many modern units do. The Sensibo Air is our top pick in this category.
Do smart thermostats work with high-voltage heaters?
Most smart thermostats are designed to work with central HVAC systems. If your home is heated by high-voltage heaters (baseboard, radiant, or fan-forced convector, for example), you'll need a thermostat that's specifically designed to work with that type of heater. The Mysa Smart Thermostat is our top pick if you're looking for a smart thermostat for a high-voltage heating system.
What is geofencing?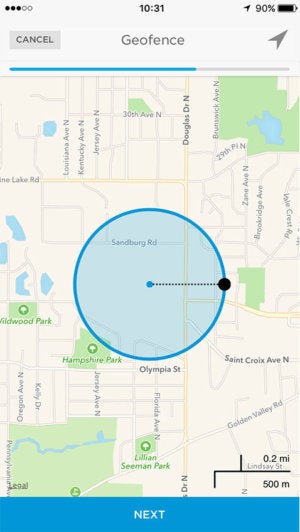 Geofencing uses a thermostat's app and your smartphone's GPS chip to establish a perimeter encircling your home. When you leave the perimeter, you presumably no longer need to heat and cool your home, or you can at least have the thermostat adjust the temperature so that it's not running unnecessarily. When you cross the perimeter again as you come home, your HVAC system can kick into action so your house is comfortable when you walk in the door.
Do all smart thermostats come with remote sensors?
Geofencing is great—provided everyone who lives in the home has a smartphone. Motion and proximity sensors offer an alternative means of determining if your home is occupied and therefore in need of climate control. Some remote sensors deliver the added benefit of monitoring the temperature in remote locations, which can help reduce problems with hot and cold spots. Some smart thermostats can also tap into door and window sensors as well as the motion sensors for your home security system. And proximity sensors on the thermostat itself can trigger its display to turn on when you walk past it, making the screens a handy feature in their own right, even if for no other reason than providing a nighttime pathway light. You'll find remote sensors with a growing number of high-end smart thermostats from Ecobee, Nest, Honeywell, and other manufacturers.
Can I control a smart thermostat from anywhere?
Smart thermostats connect to your Wi-Fi network and from there to the internet. This means you can monitor the temperature inside your home and control that status of your HVAC system–whether it's heating, cooling, or just running its ventilation fan–from anywhere you have internet access–typically using the thermostat app on your smartphone.
Can I integrate a smart thermostat into my smart home system?
Every smart thermostat comes with an app so you can control it with your smartphone or tablet, but the best models can also be integrated with other smart-home devices and broader smart-home systems. This can range from being able to adjust the temperature with a voice command via an Amazon Echo (Alexa), Google Home (Google Assistant), or Apple HomePod (Siri) smart speaker to linking the thermostat to your smoke detector. That last feature will automatically turn off the system's fan if smoke or fire are detected, which will preven smoke from being circulated throughout your home. Other options to consider include IFTTT support, Apple HomeKit compatibility, smart-vent connectivity, and tie-ins with home security systems.
What's a landlord thermostat?
A landlord thermostat is just like any other thermostat except that it's controlled by the person who owns the home or apartment and is renting it to a tenant. These are typically installed in residences where the landlord or a building manager is for paying for heating and cooling and therefore has a financial interest in keeping those costs under control. Even in situations where tenants are responsible for the heating and cooling bills, a smart thermostat can contribute to a more energy-efficient building. The thermostat usually has tamper-resistant features that prevent anyone else from making adjustments to it. While it might seem that the landlord is benefitting the most from installing a smart thermostat, smart home features–including smart thermostats–are an attractive feature for renters, who likely are willing to pay more rent in exchange for the convenience and the opportunity to reduce their energy costs.
How we test smart thermostats
We install thermostats in a single-family home with a conventional HVAC system and use each one for a week or more to determine how effective it is at maintaining a comfortable environment. The home's existing thermostat was wired with G, R, W, and Y wires. There was also a C wire in the wall that was connected to the furnace, but that had not been previously used.
While there is no regulated standard for color-coding HVAC wires, industry practice has the G wire connecting the thermostat to the fan. This wire is typically green. The R wire, typically red, is for power. Some systems have separate power wires for heating and cooling and are labeled RH and RC respectively. The typically white W wire is for auxiliary heat; i.e., a second source of heat. The Y wire, which is typically yellow, connects the thermostat to your air conditioner. Finally, the C or "common" wire is used to carry power and is typically blue (think cerulean if you need a mnemonic).